ACA multilams are the heart of customer-specific electrical connection solutions.
Further products of ACA Atlas Contacte GmbH can be found at: http://atlas-contacte.de

With the help of ACA multilams / spring baskets, you can easily design your specific contact in the highest quality.
Our multilams offer the lowest electrical resistances with highest reliability. Our modular production facility with our own tool construction ensures maximum availability and maximum flexibility. We are also happy to produce your special contact solution.


Application of multilams
The safe contact of the ACA multilams has proven itself millions of times. The classic application of ACA multilams are Plug connections of any kind. Due to the high current carrying capacity, the high number of possible mating cycles, the robust design and the favorable conditions are used ACA multilams in the most different industries.
How the multilams work
The current to be transmitted is distributed over the multiplicity of lamella webs of the multilam. Each lamella web must thereby transfer only a portion of the total current to the mating contact. According to the physical principle of the parallel-connected resistors, the resulting equivalent resistance is thereby greatly reduced. The permissible total current results from the addition of the individual partial flows.



How are multilams mounted?
For socket contacts, the socket receives a puncture. The multilam is pushed into this groove and locked captive. A cylindrical pin with plug-in diameter D is contacted.
In the case of plug contacts, the contact socket is drilled cylindrically with plug diameter D or turned out. The pin gets a groove. The multilam is pushed onto this groove and locked captively.
The connection dimensions can be found in the respective data sheet.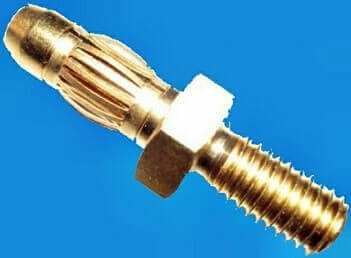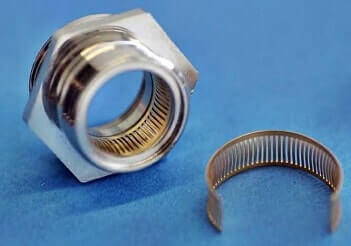 Currently we produce the following 3 product lines:
The leaf spring contacts are the standard solution for high quality connections. Leaf spring contacts are used for both power and signal transmission. They are characterized by compact dimensions, very good electrical properties and favorable conditions. Common areas of application are medical and measuring technology, photovoltaics, automotive power connectors, machine connectors and general industrial requirements. This product range is available from plug diameter 1.5mm.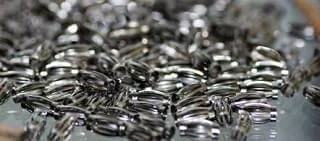 The torsion spring contacts have a very high current carrying capacity and work reliably even under the most extreme conditions. Therefore, they are usually used in larger connectors from plug diameter 8mm for power transmission.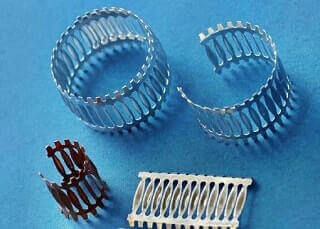 The ACA high current contact band has further improved electrical properties due to the hybrid design. Because of the special design only low contact forces are required, so that this contact band may also be subject to dynamic stresses.